(Icon, Oil on paper 40x 50 cm, 2023)
Next: Glostrup Kunstforening
"MELLEM
VERDENER"
Den 04.11- 01.12.2023
Menneskeheden bevæger sig i landskabet som refleksive skikkelser, der kan mødes på tværs af fortid, nutid og fremtid i billedkunstner Helene Høms (f.1972) univers. Generationer vandrer arm i arm på tværs af tiden, nogle antager ligefrem spøgelsesagtig karakter.
Via transparente og glidende overgange mellem motiv og baggrund bliver eksistens og landskab til ét, og individet ophæves. Med dét får hun skabt en både mystisk og håbefuld verden, båret af koloristisk følsomhed. LÆS MERE
BETWEEN WORLDS: Humanity moves across the landscape as reflexive figures that can meet across past, present and future in visual artist Helene Høms´ artistic universe. Generations walk arm in arm across time, some even with a ghostly character.
Through transparent and fluid transitions between subject and background, individual and landscape become one. With this, she creates a mysterious and hopeful world, based on a deep colouristic sensitivity. READ MORE
FERNISERING lørdag 4. november 2023 kl. 14.00 - 16.00
Glostrup Fritidscenter
Christiansvej 2
2600 Glostrup
Copenhagen
Åben
Mandag til torsdag kl. 6:30 - 22:00
Fredag kl. 6:30 - 20:30
Weekend kl. 8:00 - 16:00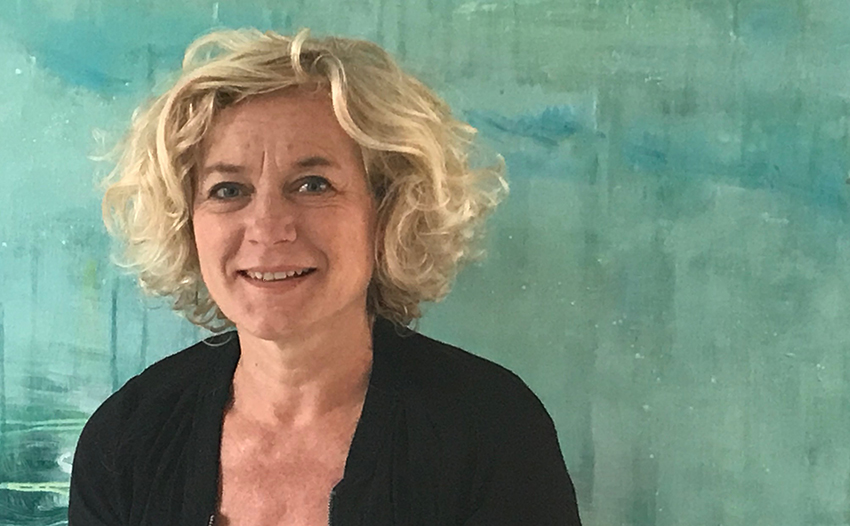 Artist statement:
""Problemet begynder med det ord VERDEN.
Det betyder to så modsatte ting.
Den virkelige, som vi ikke kan se,
og den opfundne, som vi ikke kan undslippe."
(Richard Powers, The Overstory, 2018)
"…I den kunstneriske proces står jeg med et ben i hver verden. Den verden, jeg kan begribe med min tanke og genkende i sin form. Men der findes også en anden verden, som jeg stadig ikke kender til, men som jeg alligevel glimtvis kan give et udtryk.
Noget i denne nye verden vækker en dyb genklang i mig, selvom meget lige nu kan se temmelig håbløst ud. Jeg forsøger at viderebringe den genklang.
"…The problem begins with that word WORLD.
It means two such opposite things.
The real, which we cannot see,
and the invented, which we cannot escape."
(Richard Powers, The Overstory, 2018)
""...In the artistic process, I have a foot in both worlds. The concrete world I can grasp with my mind and recognise in its form. But there is an other world, that I'm still unfamiliar with, but which I nevertheless attempt to explore through artistic expression. Even though much of what we are seeing in the concrete world can look pretty hopeless at the moment, something in this other world has resonance and deep meaning for me. I try to convey that resonance and meaning "
Helene Høm (f.1972)
eksperimenterer mellem det forståelige og det abstrakte i en arbejdsproces, hvor motiver, farver og ornamenter blandes for at lade subtile indtryk og temaer træde frem - ofte med elementer af mystik. Landskaberne og dagliglivet omkring Gudhjem bruges i arbejdsprocessen, der bevæger sig mellem det omhyggelige og det spontane.
Hun har tilegnet sig en fysisk og performativ tilgang til billedkunst med en BA fra Akademi for Scenekunst i 2001-2004 (i dag NTA). Metoder og udtryk fra billedkunst, arkitektur og installationskunst blev brugt i arbejdet med performance og teater. Som en del af det begyndte hun at male på akademiet og fik den svenske kunstner Hans-Ove Granath som professor og mentor. I dag bruger hun improviseret koreografi og improvisation som det vigtigste udgangspunkt for maleprocessen i atelieret.
"Det hele handler om at være til stede. Jeg er nødt til at skabe udfra et punkt, der ikke er mentalt, men snarere intuitivt, sanseligt og undersøgende."
Helene Høm er fjerde generation i en kunstnerfamilie, der går tilbage til Hjorths Keramik i Rønne og Bornholmermalerne. Efter mere end 15 års internationalt arbejde med performance etablerede Helene Høm sig som billedkunstner i Gudhjem i 2018.
Visual artist Helene Høm (born 1972) experiments between the understandable and abstraction in a working process, where motifs, colors and ornaments are mixed in order to let subtle impressions and themes emerge - often with elements of mystery. The landscapes and the daily life around Gudhjem are used for her workng process that wander between the careful and the spontaneous.
She acquired a physical and performative approach to visual arts at Norwegian Theater Academy in 2001-2004 (BA). Methods and expressions from visual art, architecture and installation art were used in the work with performance and theatre. As part of that, Helene Høm started painting during her academy years with the Swedish artist Hans-Ove Granath as professor and mentor. Today the she uses improvised choreography as the essential starting point for her painting process in the studio.
"It´s all about presence. I need to create from a point that is not mental, but rather intuitive, sensory and enquiring."
Helene Høm is the fourth generation in an artist family that goes back to Hjorths Keramik in Rønne and the Bornholm painters. After more than 15 years of working internationally with performance, Helene Høm established as a visual artist in Gudhjem in 2018.
---
---
---
---
---
---
---