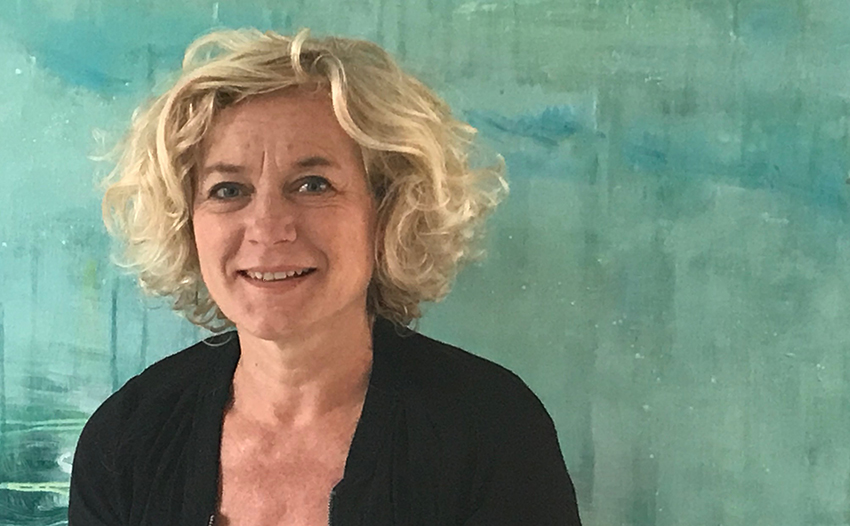 Helene Høm * Melsted By 11 A * DK 3760 Gudhjem* Tel.+45 26 13 18 83 * besked@helenehoem.dk * Moderskibet: CVR 40 425 748
Visual artist Helene Høm experiments between the understandable and abstraction in a working process, where motifs, colors and ornaments are mixed ind order to let subtle impressions and themes emerge - often with elements of mystery. The landscapes and the daily life around Gudhjem are used for her picturesque studies that wander between the careful and the spontaneous.
Helene Høm is the fourth generation in an artist family that goes back to Hjorths Keramik in Rønne and the Bornholm painters.
She acquired a postmodernistic and deconstructive approach at her BA- education as a performer at the Norwegian Theater Academy in 2001-2004. Methods and expressions from visual art, architecture and installation art were used in the work with performance and theatre. As part of that, Helene Høm started painting during her education, with the swedish artist Hans-Ove Granath as professor and mentor.
After working for more than 25 years interdisciplinary with art and theater - with as many hours in the atelier as on stage - Helene Høm decide to establish as a visual artist in Gudhjem in 2018.
CURICCULUM VITAE ( 1972)
EDUCATION:
2001-04 : BA in Theatre Art, Norwegian Theatre Academy (NTA): Performance & acting, NO *
2011-12: Diploma Degree: Journalist (Culture) DMJX, The Danish Media- og Journalist School, DK *
1995-98: Free Youth Education (FUU): Performance & visual Arts at AFUK Copenhagen, DK *
1988-91: Student, Bornholms Amts Gymnasium DK
EXHIBITIONS:
2020: OUT THERE, paintings and paper works, Undreværket,Bornholm
2019: SUMMER EXHIBITION, paintings, in Undreværket, Bornholm *
2016: 365 Drawings, a personal project: one A5 ink drawing a day for a year *
2016: "20 COSTUMES OF WAR or just 3" Bornholms Kunstmuseum DANISH ART COUNCIL *
2013: 3760 GUDHJEM, group exhibition, Gudhjem Museum *
2008: NATÜRLICH, objects and space, based on playwright "Über Tiere" by E.Jelinek, HIVE, Zürich *
2008: VERNISSAGE, solo: objects, paintings, sketches, Atelier Frankengasse, Zürich, CH *
2006: Gallerie Arts Du Nord, Sketches in gouache, Vence, FR *
2005: H.C.ANDERSEN curated exhibition, paintings, Galleri Kaffeslottet, Gudhjem *
2004: Bornholms Censurerede Forårsudstilling, paintings, Galleri Kaffeslottet, Gudhjem
SELECTED PERFORMANCES:
2014-17: LUST a staged exhibition about female sexuality, by Helene Høm / Undreværket
Concept, performer, space, objects & costumes DANISH ARTS COUNCIL *
2016: "Strip Tease" a costume performance, by Helene Høm / Undreværket:
Idea, performer, space, objects, costume, sound for Bornholm Culture Week,DANISH ARTS COUNCIL *
2004: "Chat Room" a group performance by NTA & Plasma / Lukas Bangerter at HENIE ONSTAND KUNSTSENTER, NO (Graduation group project) *
2002: "Could this be paradise?" an art installation with 6 performers for 10 hours in
The Crypt under Oslo Cathedral, NO, NTA student work.
LIVING AND WORKING 3 YEARS IN ZURICH :
2010: "ID" A performance by Teater "Plasma" (CH-DE) by L. Bangerter. Theaterhaus Gessnerallee *
2010: STÜB COUTURE performance at "Wechselstube,Raum für Ortspezifisces"
Performer, site specific costume, installation and sound *
2010: DANCE MUST BE BEAUTIFUL, solo performance leading to a broken leg, Musterbogen *
2008: PYRENÄEN, directed by Stephan Roppel, Theater an der Winkelwiese *
2007: WALK DONT WALK performance by "Plasma" / L. Bangerter. Theaterhaus Gessnerallee
ENTREPRENURSHIP (Groups or institutions I have started):
2016 – : UNDREVÆRKET, Bornholm, with Thomas Danielsen. Performance and art *
2003-06: GUDHJEM NETWORK SCENE: 4 site specific out door summer performances *
2004-05: PASSINGBYTHEATRE 12 art performances in public spaces in CPH for one year
OTHER RELEVANT WORK:
2018: Huskunstner "COURAGE – Zahrtmann" at Bornholm Art Museum, DANISH ARTS COUNCIL *
2016: Workshop for African performers: "What´s Under?" Cape Town, DANISH ARTS COUNCIL